Celebrate with a champagne toast, relax poolside with a signature Avalon sangria, or experience a blue chip Napa Cabernet with dinner. Avalon has three unique wine lists with something for everyone. Enjoy elegant wine pairing dinners or join us for one of our wine tasting and education events.
At Avalon at Buhl Park, we offer a variety of red, white and sparkling wines from all over the world. Enjoy a bottle with dinner or try a glass from our selected menu. Join us for an evening full of fun and perfectly paired foods and wine selections at one of our signature Wine Dinners. These dinners are a great way to learn about wine and enjoy company with friends.
The Wine Room at Squaw Creek
The Wine Cellar and Lounge at The Grand Resort
The Wine Cellar and Lounge at The Grand Resort offers our guests a beautiful and relaxed atmosphere with its gorgeous view of the Roman Bath. Choose from more than 700 varieties of the best wines from all over the world. Our On-Tap System has 24 varieties of wine available by the glass for your enjoyment in 1-oz, 3-oz, or 6-oz pours. Plus we have thousands of chilled bottles available for purchase by the bottle or case. During the warmer months enjoy your wine and menu selections on our new outdoor patio.
HOURS
Sunday through Thursday: 4pm-10pm
Friday & Saturday: 4pm-11pm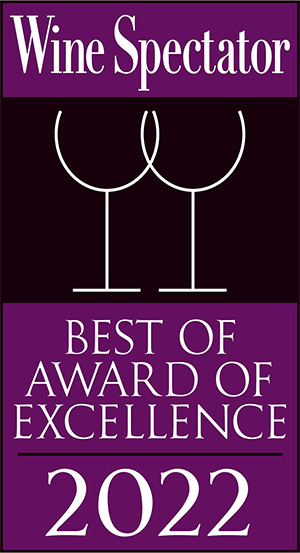 Wine Spectator: Best of Award of Excellence 2022
The Grand Resort is proud to announce that our Wine List has won the prestigious Best of Award of Excellence from Wine Spectator magazine, the leading voice in the American wine press.
The Award recognizes the excellent breadth and depth of our selections and our deep commitment to wine at The Grand Resort, making us a destination for serious wine lovers!